Wow, I am only three months late in posting this-I am slightly behind and be prepared there are LOTS of pictures. This was my 5th time going to the Philippines and yet somehow each trip is different than the last-this year seemed to be our most adventurous and definitely one of the most memorable. It started out that way when my nephew and I got flagged at immigration in Manilla because he was a minor traveling without his parents. We were pulled into a back room and asked to pay a bunch of money and to provide documentation from his mother stating he was allowed to go on the trip (luckily for us we had the documents). After waiting for what seemed like forever they let us thru-it took so long I thought they were going to send us back home. This year all of our service had a educational theme: we donated school kits, playground equipment, and built a school on a VERY remote island called Pamilacan or "Pelican" as many called it since they couldn't remember the right name. The island was incredibly beautiful, but very hot and very humid. Nothing dried out and by the end my hair smelled like mildew;)
One reason this trip was more adventurous was because we camped right by the beach in individual mosquito-net tents. I was very grateful for my tent because they kept the large spiders out (they were HUGE), but unfortunately they didn't protect us from the rain. It was also too bad they weren't sound proof because the roosters on the island started crowing at 3:30 a.m. every morning and it was loud!
We didn't finish the school while we were there, but we did work really hard carrying supplies, mixing cement for the foundation and we started to build the frame of the school. I always looked like I had just taken a shower because I was so sweaty;)
We always have so much fun hanging out with the darling kids over there and it kind of made me homesick for my own 4-year old. One night we invited all the kids on the island and their families to come and watch a movie on the side of the town church. It was the first time a lot of them had ever seen a movie and we loved being able to walk them all home at the end of the night.
Every time we go over the filipinos love to arrange a basketball game against us-well the boys that come with us-and this year they decided to have our own jerseys made for the event.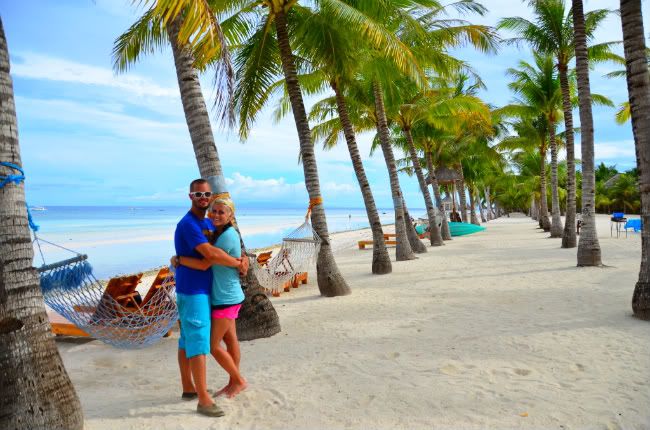 After some really hard work, we headed over to the island that we normally stay on, Bohol, and had some serious fun. Nothing beats the beaches in the Philippines.
My little sis and nephew Scott.
On one of our last days we went to an outdoor Eco-Adventure center and did the longest zip-line in Asia and did something called the plunge-literally the most terrifying thing I have ever done in my life. It was all a little sketchy because the equipment was really old and they don't really have safety checks over there.
This is the Canyon that the events took place over.
This is me almost blacking out before I did the plunge because I was SO scared. My arms and hands kept going numb and my face went white-I was that stressed, but I knew I would regret it if I didn't do it. You were lowered off of a platform that was attached precariously to the side of a cliff. They counted to three and then pulled a rip-cord and you dropped about 250 feet and then swung out over the canyon. It was a giant bungee pendulum swing. I was really glad I did it in the end, but I still can't believe I actually went thru with it-I am really afraid of heights.
It was such a great trip and we had an amazing group of people that came over with us. It was great to see all of Pete's hard work pay off-I was so proud of him;)